The Cameron Parish Port
The port is situated as the port of entry to the Calcasieu Ship Channel in Southwest Louisiana. It is located on the Gulf of Mexico with the Calcasieu Ship Channel, the Gulf Intracoastal Waterway (GIWW), the Mermentau River and the Cameron Loop all located within its territorial limits. The territorial limits encompass Wards 1, 2, 3, 4, 5 and 6 of Cameron Parish, Louisiana.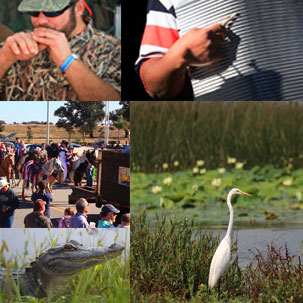 Serving the Community
---
The Cameron Port is a major support contributor with a direct link to the oil and gas exploration and service industry. It is also home to several fleets of shrimp, crab, and other seafood harvesting operations. Two major LNG interests are currently located on waterways within the port with others in permitting stage.
Primary cargo that flows through the port, much of which arrives or departs from the port's territorial jurisdiction are: Baroid, Coal, Sweet and Sour Crude, LNG (expected to start within the District in 2015 at the Cheniere Sabine Pass LNG facility in Johnson Bayou, LA)), Bulk Grain, Rice, and other support products for the petrochemical and oil and gas industry.
Four wildlife refuges:
Visitor Traffic Flow (as of March 2015)

---

Sabine National Refuge 240,696

---

Cameron Prairie National Refuge 44,467

---

Lacassine National Refuge 23,413

---

Rockefeller Refuge 150,000 (anually)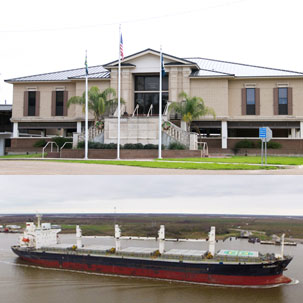 Cameron Port Commission
---
Created in 1968 by R.S. 35:2551, et. seq., and is a political subdivision of the State of Louisiana with all rights, privileges, and authority to provide police protection for its facilities. The governing body of the organization is composed of commissioners with six year term.
As of January 1, 2017 the East Cameron Port Commission and the West Cameron Port Commission are one entity, The Cameron Parish Port, Harbor and Terminal. This was approved by the Louisiana legislature in Act 331. The Cameron Parish Port encompasses wards 1, 2, 3, 4, 5 and 6 of Cameron Parish. The Cameron Parish Port, Harbor and Terminal Commission is composed of eleven commissioners that will work together to regulate the commerce and traffic of the Cameron Port in such a manner that is in the best interest of the state.
Regularly scheduled meetings are held at 6:00 p.m. on the fourth Tuesday of each month at the Port offices located at 180 Henry Street, unless otherwise posted. Notices are posted in accordance with legal notice requirements and are provided to the Lake Charles American Press and the Cameron Pilot. The powers of the Cameron Port Commission are varied. The Cameron Port has authority to regulate, construct, own, maintain, operate, acquire, expropriate, levy taxes and fees, receive funding, and to conduct general port harbor and terminal operations for the benefit of the District, Parish, and Southwest Louisiana Region.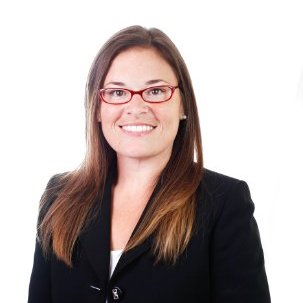 Meet the Port Director
---
Clair Hebert Marceaux was born and raised in Cameron Parish. After earning a degree in English Liberal Arts and studying British Literature in the Graduate School of the University of Louisiana at Lafayette, Hebert taught English IV at the Episcopal School of Acadiana and St. Thomas More Catholic High School in Lafayette. In 2006, Marceaux began working for the Federal Emergency Management Agency (FEMA) where she managed more than 11,000 FEMA temporary housing units. Upon mission complete, she went to work for the Calcasieu Parish Police Jury's Department of Planning and Development where she oversaw the administration of more than $35 million of Community Development Block Grant Disaster Recovery Unit funds to include the construction of the Southwest Louisiana Entrepreneurial and Economic Development or SEED Center.
Port Commissioners:
---
Cliff Cabell, Chairman
Dwight Savoie
Kay Picou
Wendell Wilkerson
Tim Dupont
Ricky Poole
Carol Trahan
Howard Romero
Jimmy Brown
Shelia Miller
Chris Fountain
Our Mission
The mission of the Cameron Parish Port, Harbor & Terminal District is to first actively promote Cameron Parish residents and businesses and enhance opportunities for them through every industry currently operating and planning to located in Cameron Parish.

The Port Commission, through the development of facilities, land, programs and services will strive to create sustainable growth while preserving our Cameron Parish culture and way of life.
News
Highlights of 2016 Accomplishments
○ Obtained Foreign Trade Zone subsone for G2 LNG;
○ Added 20 available sites to the inventory;
○ Completed marketing brochure;
○ Hosted 2 CNG, 11 restaurant, 3 fabricator, and 6 housing prospects; responded to 7 requests for information about sites for LED;
○ Created a New Comer's Guide and newsletter;
○ Created a Business Connections web portal;
○ Merged the East and West Cameron Port Boards into one authority;
○ Hosted 6 skilled crafts recruitment, 3 LA Works, 2 small business workshops, and 1 career fair event.
Meeting Schedule
2018 Meeting Schedule
180 Henry Street,
Cameron – 6pm
January 23
February 27
March 27
April 24
May 29
June 26
July 31
August 28
September 25
October 30
November 27